Kyvalley Tennis Club
Competitive tennis has been played at Kyvalley since early 1914. Kyvalley Tennis Club celebrated over 100 years of tennis in 2014 with a Tennis Club Reunion.
We have Junior, Senior and Midweek Ladies teams and are always look for new players.
Like us on Facebook to keep up to date with all our news - https://www.facebook.com/kyvalleytennisclub/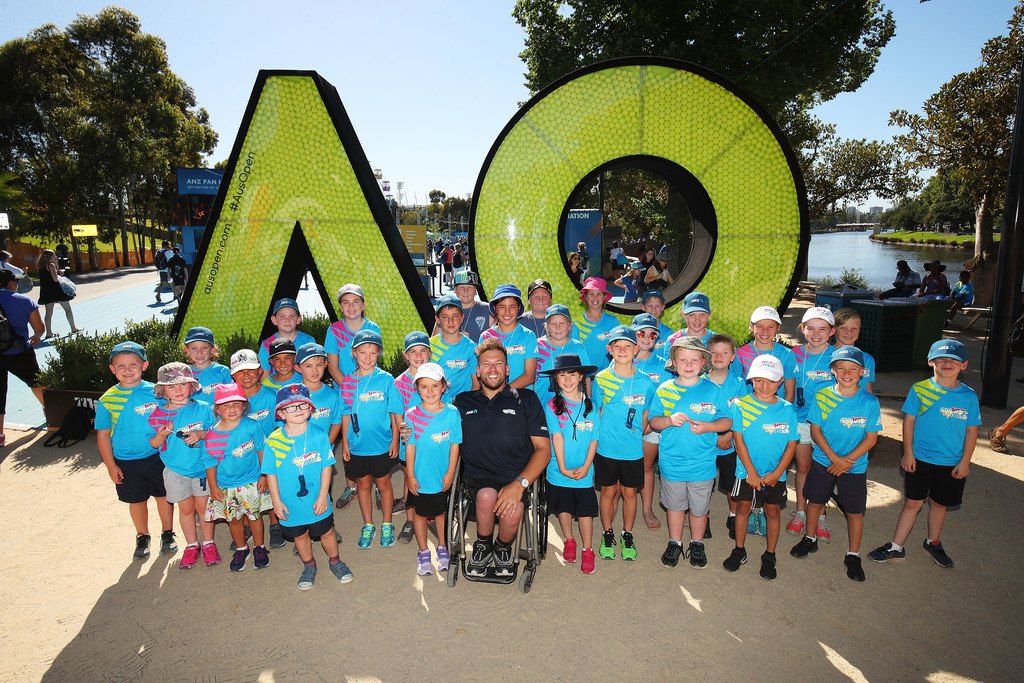 Public Use of the Courts
The courts are open for public use, so feel welcome to come down for a hit. The Committee ask that you respect the facility and leave things neat and tidy when you leave.
Hiring of Courts
The courts and facilities are available for hire around competition commitments. Please contact us for further information if you are interested in hiring any of the facilities.
Further Enquiries -
Contact: Melissa Williams
Home: (03) 58 532 891
Mobile: 0412 822 029
Email: lawlerm2@bigpond.com
Kyvalley Tennis Club
What a great successful and rewarding 6 years it has been since Kyvalley Tennis Club reformed back in 2012 when a new committee was elected, after 8 years of inactivity at the club. After 12 months of facility maintenance, the club entered junior, senior and midweek ladies teams into the local Kyabram & District Tennis Association competitions.
This year is our 3rd year of running ANZ Hot Shots Community Play. We run two 6 week programs per year, one during Term 4 and the second in Term 1. Our numbers have ranged from 50-60 participants per program. We have also ran a 2 day Junior Coaching Clinic in September School Holidays and fortnightly Sunday Professional Junior Coaching for the last 4 years with on average 20 children participating in each program.
For the first time last season we have introduced Ladies Professional Coaching (weekly on a Thursday and fortnightly on a Sunday) and Social Twilight Fast4 fortnightly on a Friday evening.
Other highlights for our club include:
• Winning the 2017 Australia Day Community Group of the Year for Kyabram & District for our ANZ Hot Shots program.
• 3 years in a row ANZ has reward us 50 free tickets and contributions towards bus transfer to the ANZ Tennis Hot Shots Day at the Australian Open.
• 2 years in a row 10 Kyvalley Hot Shots participants were invited to the Australian Open "Kids on Court" experience and each year we have had one lucky child do the coin toss on the day.
• Last season our Senior Saturday team won the KDTA Premiership for the four year in a row and were nominated in the Team Section of the 2017 Kyabram Sports Star Awards.
Successful Grant Applications since the club has reformed:
• Department of Health Sporting Club Grants: Category 1 - Uniforms.
• Vic Health Active Club Grant: Equipment.
• Department of Health Sporting Club Grants: Category 3 - Strategic Plan.
• Tennis Victoria, Female Participation Grant
• Defibrillators for Sporting Clubs & Facilities
• Community Shade Grant
The club are currently continuing to apply for grants and seek donations/sponsorship to upgrade two 40 year old pitted and cracked asphalt courts with synthetic grass. For further information contact Melissa Williams on 0412 822 029.
The Kyvalley Tennis Club is proudly sponsored by Insurance House,
187-189 Allan Street Kyabram Victoria 3620, Phone: (03) 5851 0302.

Upcoming Events at Kyvalley Hall - April & May 2019
Flyers for each Event
Fundraising Events for Kyvalley Swimming Club Inc. (Kyvalley Pool). Everyone Welcome. Hope to see you there!
Kyvalley Nu Vogue Dances - Schedule for April to July 2019
Dances conducted by Kyvalley Progress Association